Mercy Center's Sisters Academy
Celebrates 28 Years!
Our doors at Mercy Center's Sisters Academy in Asbury Park opened this fall to 56 girls.
Among them was a new 5th grade student who cannot read or write. We'll call her "Jada." This 10-year-old, who is facing extraordinary circumstances with her family, walked into our school wide-eyed and excited for the possibilities. She was all smiles dressed in the new uniform we provided her, complete with tiny black patent leather shoes. Our incredible staff is equally thrilled knowing Jada will soak up knowledge, kindness, and love during her next five years at Sisters Academy.
It was Tom Bugliaro, a.k.a. "Mr. B," our Interim Principal, who picked up Jada's school uniform. "It just made me happy. It's just the beginning for her, and I can't wait to see her progress this year, not just academically, but in all aspects. We have so many opportunities for our girls… class trips, dance, art, music, wonderful speakers, and much more."
On the second day of school, Mr. B asked Jada if she was going to get up from her table to get breakfast. Mr. B told her there was a cold breakfast available today of cereal and yogurt. Jada's response though was of disappointment, "I've never really had a hot breakfast until I got here."
As Mr. B tells us there were eggs and sausage on the menu the day before which Jada apparently really enjoyed. He said, "Those are the kind of things that hit me. It's a blessing for the child, and a blessing for us to be able to make her life better. The fact that this little girl had never had a hot breakfast before made me so emotional. It kind of puts everything into perspective for me."
Indeed, we have so much to celebrate as Sisters Academy marks its 28th year! Iowa test scores alone showed phenomenal improvement last year for our 4th graders. On average, the children jumped two grade levels from their entrance exams in reading, language arts, and math. Our education of excellence for underserved girls in the greater Asbury Park area sets them on a path to overcome generational poverty, and we cannot wait to see how our school will shape the path for Jada and her classmates.
Sisters Academy – a sponsored work of the Sisters of Mercy – is a tuition-free middle school for underserved girls, grades four through eight. We are proud that 100% of our students graduate from high school.
If you're interested in giving a girl, like Jada, the very best education, please consider a donation to Sisters Academy today.
Mercy Center Prepares Families for
"Back to School" –
with Backpacks and Supplies!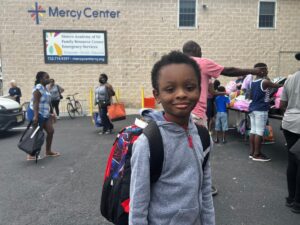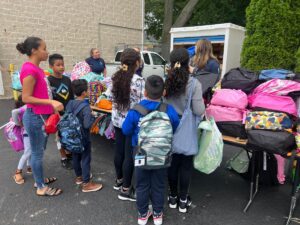 "My son picked a cute camo backpack, and my daughter picked the largest blue backpack she could find. It's bigger than her! Funny because you're giving away cartoon backpacks, but she wanted what she wanted. She's so sassy," told us a mother of two from Asbury Park.
Meanwhile, Jamil Meizongo, an eight-year-old from Neptune City, picked out a red and black Spiderman backpack from the assortment on the tables at Mercy Center's Annual Backpack and Supplies Distribution in August.
Jamil's mom, Alesia Shoats, said, "This is very helpful. I have a two-year-old, so I'm not working right now, and having help with back-to-school things is a lifesaver. Everything is so expensive right now."
In all, two hundred and fifty new backpacks were distributed by Mercy Center, stuffed with all the school supply essentials needed for each grade. Elementary school children received an array of supplies including crayons, pencils, scissors, rulers, glue sticks, and pencil cases, with middle and high school students receiving calculators, index cards, graph paper, and highlighters among their items.
"When I arrived at Mercy Center this morning, the line of parents and children was wrapped around the corner. The need for backpacks and school supplies is apparent among the struggling families we serve, and we are grateful to all who donated to make this possible," said Kim Guadagno, Mercy Center's Executive Director.
The cost of needed "Back-to-School" items, along with a backpack, is more than fifty dollars per child. Some families came to Mercy Center with four and five kids, which is not possible for our neighbors in need who struggle to pay rent and other bills.
"Ojala pudiera darselo a mis hijos yo mismo, pero no puedo," told us one mother in Spanish… "I wish I could afford to give it to my children myself, but I can't."
Thanks to our donors, Mercy Center is here to help.
Staying focused in school requires proper nutrition.
"Feeding the kids on weekends is hardest for me, because there is no school breakfast or lunch. It's more on me, you know. 'Is dinner tough during the week, too?' Yes, for sure," told us one mom from Asbury Park who we spoke with at Mercy Center's food pantry as the summer came to an end.
The mother of two elementary school children, with a baby on the way, says she just learned about our pantry and didn't realize there were fresh apples, oranges, peppers, chicken, and fish, plus items like cereal, pasta, and yogurt. "I can't tell you how many times I've just walked on by… thanks for giving me a tour."
On this day alone, Mercy Center provided more than 400 people with fresh vegetables and fruit, meats, dairy, and basic staples. In the last year, we provided more than 1.1 million meals to people in the greater Asbury Park area.
"I'm going to come back, I can't believe all the stuff you have, and everybody is so nice."
LAST CALL FOR OUR CASH RAFFLE!
THE POT IS MORE THAN $27,000!