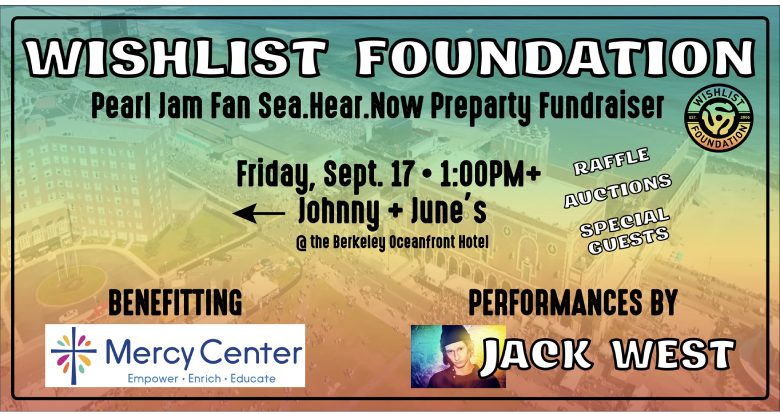 Wishlist Foundation selects Mercy Center as a beneficiary for its Sea. Hear. Now Festival pre-party fundraising event
The Asbury Park nonprofit will be available at the fundraiser to share its mission and vision with the community.
Asbury Park, NJ – Mercy Center, an Asbury Park-based nonprofit, has been named as a beneficiary for the Wishlist Foundation's Sea.Hear.Now Festival pre-party fundraising event. The pre-party event will be held on Friday, September 17 at Johnny + June's at the Berkeley Oceanfront Hotel in Asbury Park, featuring performances by Jack West and other local musicians. The fan fundraiser will also support Pearl Jam's Vitalogy Foundation and other spotlight charities.
"We are so grateful to the Wishlist Foundation for selecting Mercy Center as its designated nonprofit this year," said Kim Guadagno, Executive Director of Mercy Center. "We are extremely excited to connect with the Asbury Park community through this amazing outreach opportunity and will have a table onsite at the event. Anyone interested should stop by to learn more about Mercy Center and see how, together, we can bring a voice to our neighbors in need."
A longtime advocate for the city of Asbury Park, Mercy Center has been serving the city by the sea since 1986 through the following programs:
Emergency Services – distributes food, clothing and utilities assistance to help sustain families facing financial difficulties;
The Family Resource Center (FRC) – a "one-stop-shop" for resources, referrals, advocacy, counseling and behavior modification services available to families so they can maintain healthier lives and relationships;
Sisters Academy of New Jersey (SANJ) – a middle school for girls from economically challenged families providing an education of excellence, life skills and the necessary tools so they become confident, self-sufficient and successful in competitive high schools.
"One of my favorite things about Wishlist is that we focus on local organizations in the towns where we fundraise," said Laura Trafton, Chief Executive Officer of Wishlist Foundation. "We know Pearl Jam fan donations will be utilized towards real grassroots change. We learned about Mercy Center from Maria Barba-Clinch, and we absolutely love all the different approaches they take to support the Asbury Park community."
"It is important to us that we support our community," said Barba-Clinch and her husband, Danny Clinch, Photographer, Director, Owner of the Transparent Gallery, and Sea.Hear.Now Partner and Promoter. "We were drawn to Mercy Center for its dedication in offering crisis help for families in Asbury Park. The importance of Sisters Academy of NJ for young girls cannot be overstated as an integral component in creating healthy confident future community citizens. We all rise when we help each other."
Inspired by the Rock and Roll Hall of Fame legends' music, philanthropy and activism, Pearl Jam fans volunteering with Wishlist Foundation have been fundraising in their honor for the past 17 years. "We are incredibly grateful for the decade-plus years of support and inspiration from the Wishlist Foundation's pre-parties," states Mike McCready, lead guitarist of Pearl Jam. "I think our fans are very proactive in terms of fundraising for events before our shows. They do it of their own volition and they take care of each other and their communities. It always blows me away."
Open to the public, attendees of the pre-party fundraiser can make donations to receive band and fan inspired merchandise and enter raffles for chances to win fan-donated band collectibles. Silent and live auctions will feature donated autographed Pearl Jam posters and other rare memorabilia. More information on the fan-run Wishlist Foundation fundraisers can be found at wishlistfoundation.org.
About Mercy Center
Mercy Center, founded by the Sisters of Mercy, provides programs and services that empower, enrich and educate people facing socio-economic challenges to realize their full potential, with a special emphasis on women and children. To learn more or to support Mercy Center, visit www.mercycenternj.org. Be sure to follow Mercy Center on Facebook @MercyCenterAP and Instagram @MercyCenterNJ.
About Wishlist Foundation
Conceived in 2004 and officially organized in 2006, Wishlist Foundation has remained a 100 percent volunteer organization run by fans, raising over 1.5 million dollars for charitable organizations in the arenas of health and chronic illness, environmental causes, arts and education and social change. A pioneer in fan-based viral activism and leader in the Pearl Jam fan community, Wishlist Foundation sponsored events are the go-to destination for thousands of both diehard and new fans of the band across the globe to gather before Pearl Jam and other related concerts, forge new friendships, all while uniting behind causes important to both the fans and band. Wishlist Foundation is fan-run and not affiliated with Pearl Jam, Ten Club LLC, Pearl Jam's Vitalogy Foundation, its management or any of its related entities.