IMPROVED IOWA TEST SCORES
FOR OUR 4TH GRADERS!
Last year in my old school, I didn't do well, so I'm so happy I did well this time," said 10-year-old Jessica Hernandez of Asbury Park (pictured above).
Jessica's Iowa test scores from March jumped two grade levels from her entrance exam for Mercy Center's Sisters Academy of New Jersey in August.
"I think that's great for me. I feel amazing!" Jessica added.
In fact, the Iowa test scores show phenomenal improvement for our entire inaugural 4th grade class!
Reading – Scores increased by 38% bringing a total of 88% of 4th graders at or above grade level.
Language Arts – Scores increased by 50% bringing a total of 75% of 4th graders at or above grade level.
Math – Scores saw a significant increase with 63% of 4th graders now at our above grade level compared with the approximate 30% at the start of the school year.
"I've learned to do my multiplication, fractions, division, decimals, and I've learned my states and capitals. And, I didn't have social studies or science in my old school, so I learned that here, too," said Jessica.
We know we still have more hard work to do, but considering where we started, these are some incredible accomplishments!
Sisters Academy is a tuition-free middle school for underserved girls, grades four through eight. We are proud that 100% of our students graduate from high school.
Would you consider sponsoring a girl to attend Mercy Center's Sisters Academy? It costs us $15,000 per year to educate a child, but a donation in any amount helps us change lives. For more information, email Linda Kellner at lkellner@mercycenternj.org.
HIGH SCHOOL SCHOLARSHIPS FOR OUR GRADUATING 8TH GRADERS!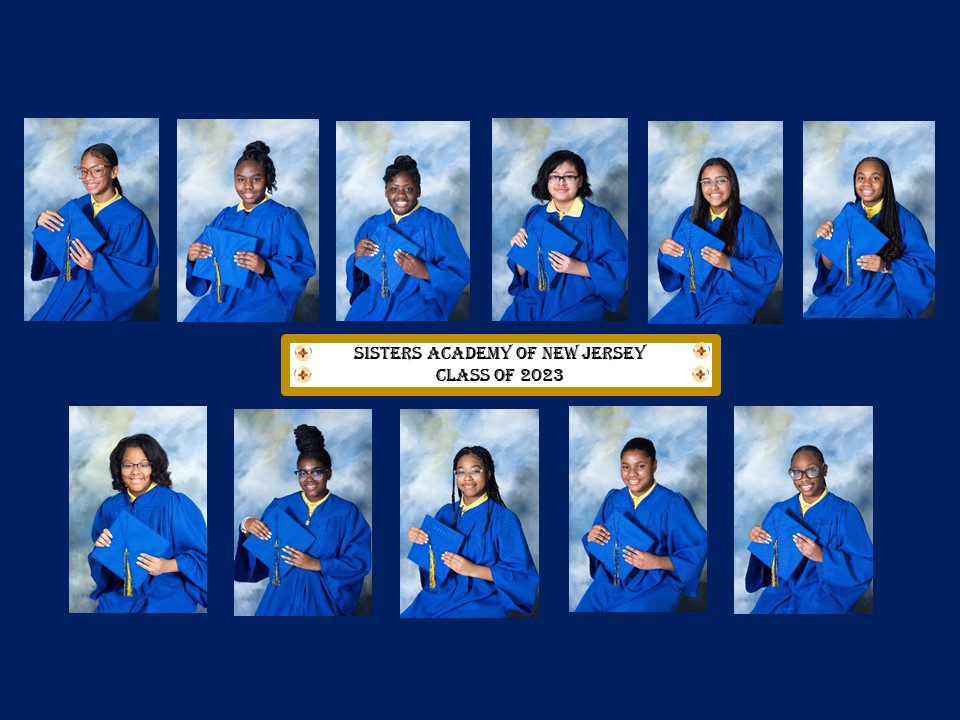 A round of applause for our 8th grade class that just graduated!
We have two students attending Red Bank Catholic in the fall with full scholarships, and another student is heading to Trinity Hall! We also have five students going to St. Rose High School with partial scholarships!
Kelsey Desire and Ava Mohammed are the two girls on their way to RBC this fall. They both graduated Mercy Center's Sisters Academy of New Jersey with "A" averages.
Kelsey, a 14-year-old from Neptune Township, told us, "I am excited. I really didn't think I was going to get the scholarship. I would not have been able to go without it. Sisters Academy has prepared me to keep going and not give up." Kelsey plans to go to college after RBC and maybe even medical school to become a pediatrician.
"I'm very excited to start in September. It's going to be a new experience," said Ava, a 14-year-old from Neptune City. Ava wants to continue dance in high school and may go out for the volleyball team.
"I think honestly, I wouldn't be at RBC, or anything like it, if I had been at public school. I feel like the environment in public school wouldn't have pushed me the way the Academy has pushed me," added Ava.
"The undeniable truth is that education is the best form of empowerment."
You could hear a pin drop in the auditorium at Sisters Academy as Anaika Napoleon (pictured above at the podium) spoke these powerful words during our Class of 2028 Spring Luncheon.
Anaika graduated from our tuition-free middle school in 2015, and just graduated from Monmouth University with a chemistry major and a concentration in biochemistry.
Anaika, now a Mercy Center Board Member, explained how Sisters Academy helped her rise from the challenges of her roots in Asbury Park and prepared her for a career in the medical field.
"I grew up behind the school. Sisters Academy is a school that really focuses on the core values, including integrity, respect, and courage. The education here inspired me to be a better person and want to help out individuals and have respect for myself and do well in school with my academics."
The several students in attendance looked on in awe, telling us later that Anaika inspires them to work hard.
Dr. Jennifer Edmonds, Dean of the School of Business and Digital Media at Georgian Court University and Mercy Center Board Member, also spoke at the event.
"To be really seen in a classroom changed my experience. My 4th grade teacher showed me my magic. She pushed, she encouraged. She helped me learn that math is my passion, so I would say to you all, find your math, find your magic, find your gift. Be very aware of your gifts, you can have more than one, be thankful for them, and use them."
To help Mercy Center help young girls find their magic, we ask you to consider giving a gift of any size to help us continue our mission to empower, enrich, and educate.
MERCY CENTER'S FOOD DISTRIBUTIONS CELEBRATING FREEDOM AND COMMUNITY!
OUR JUNETEENTH COOKOUT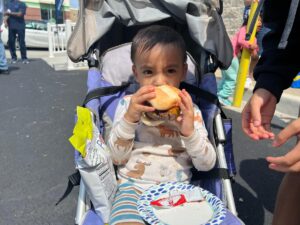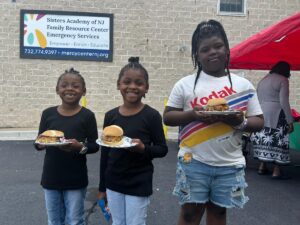 Tameerah Worthington of Asbury Park was all smiles as she enjoyed Mercy Center's Juneteenth Cookout, and even happier that this special day was being honored.
Tameerah said, "I think it's a good thing. I appreciate Mercy Center doing something for Juneteenth, so people can understand and have knowledge about it. Believe it or not, there are a lot of African Americans who don't know anything about it, so things like this bring awareness."
Two-year-old Oliver Garcia of Asbury Park (pictured above) also loved the fresh produce and cookout. His mom, Estefania Melendez, told us, "We love this place. And, you can see my son likes it, too."
Mercy Center, in collaboration with Mount Saint Mary's University Jersey Shore Alumni Chapter, held the special Juneteenth Cookout to bring together the community for a day of celebration, reflection, and delicious food. Juneteenth, also known as Freedom Day, is a commemoration of the emancipation of enslaved African Americans in the United States.
The Juneteenth Cookout featured burgers, wings, water, chips, and cookies. Mercy Center's food pantry also distributed fresh fruits and vegetables, as well as staples to take home.
Tameerah, Estefania, and Oliver are among the people in Monmouth County currently being served by Mercy Center's food pantry. In 2022, we served 35,000 people. That's up significantly from the 1,558 people we served in 2021.
Give a gift today to help Mercy Center's food pantry keep up with growing demand in our community for food.
At Mercy Center, we believe everyone deserves a 4th of July BBQ spent celebrating with family and friends! That's why we held a special holiday food distribution for our neighbors in need.
Each family received a cooler bag that was supplied by JCP&L, with hamburgers, hot dogs, rolls, and all the fixings for a 4th of July cookout provided by Mercy Center. Hygiene bags, courtesy of United Way, were also given out. The bags were filled with a variety of essential toiletries and feminine supplies that cannot be purchased with government assistance and are able to sustain a family of four for one month. Our pantry also provided fresh vegetables and fruits, dessert, and food staples.
"I like coming here, everyone is so nice and helpful. The produce and all the food is fresh. Most importantly, the people are very nice," said Ann Reid of Neptune.
"It's a very respectful place. Everyone is very helpful and friendly. The attempt is always great. They try hard here to give the best produce and it's very organized. God's blessing with the people here," said Jeanette Redd of Neptune.
ARE YOU ATTENDING OUR GOLF OUTING?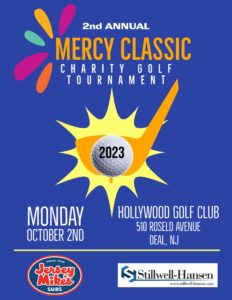 MERCY CENTER'S CASH RAFFLE