Sisters Academy of New Jersey Launched Alumnae Association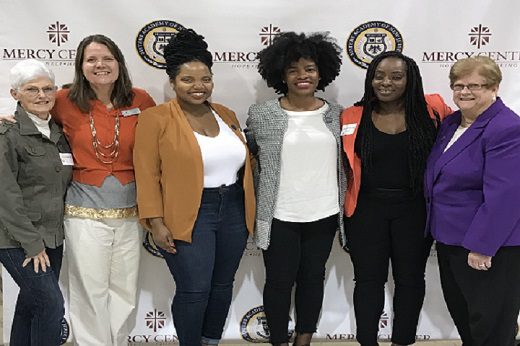 On Saturday, October 5, 2019, Mercy Center's Sisters Academy of New Jersey hosted and formally launched the Sisters Academy of New Jersey Alumnae Association. The Association's Founders formally announced the resolution to form the Association as read and accepted by Sister Mary Louise Miller, Principal. The group pledge was made by all the present members.
Sisters Academy, now in its 22nd year, considers the association a major milestone for the Academy. As Sister Mary Lou beamed with pride, she boasted "We are witnessing the impact of our work in the community. To see older alumnae come together with younger alumnae and recognize the value of the education they received as the stepping stone to their success, is a testament that our model works."
The Association wasted no time in declaring its first order of business. It was announced that current Principal, Sister Mary Lou, will retire after 20 years as Principal this coming July. The Founders enthusiastically suggested to the newly formed group that this would be a great opportunity to celebrate her legacy and tenure and launched the Sister Mary Lou Legacy Scholarship Fund. The Association agreed to raise $15,000 and Mercy Center will match its efforts by 7:1 with a total goal of raising $120,000 by Sister's retirement. All members happily agreed. "We credit much of our current success to Sister Mary Lou, her transformative vision for the Academy and the commitment of the dedicated staff to our learning experience" claimed Valencia Gomez, one of the Founders. "The funds raised to honor Sister will ensure an education of excellence for several girls for years to come" said Endera Preval.
The Association's Leadership Team pictured from left to right are Dianne Meserlin, Moderator; Eileen Greenlay, Director of Development; Founders Valencia (Constant) Gomez, '03,  Endera Preval, '01, Martine Pierre, '02, and Sister Mary Louise Miller, Principal. Founder Withney Barthelemy, '12 is not pictured but attended the event remotely via video conferencing.